NANCY H. HOLM, D.D.S.
14000 Nicollet Avenue, Suite 302 Burnsville, MN 55337
Call Today: 952-435-3335
Appointment Request
Read Our Reviews

Write a Review

New Patient Offer

Complete EXAM
and X-Rays $88!!!!

(Normally $195. You SAVE $107!!!)

This offer cannot be combined with any other offer.

"OFFER GOOD IF APPOINTMENT
SCHEDULED BY 02/09/2016"

Cosmetic Analysis
Patient Survey
Patient Forms
Advanced Technology
7 Reasons To Choose Us
Patient Login
Mission of Mercy
Welcome to Our Practice
Welcome to our office! It is our pleasure to provide you all the help that you need to accomplish a beautiful smile—one that reflects a complete commitment to your total dental health. Not just for today, but for the longer life expectancy and the healthier, youthful quality of life we are all seeking for our future! The type of dentistry you choose today will impact where your dental and overall health will be, 20 years from now…Don't take your choice lightly!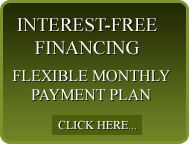 Ever wonder if your dental office has your long-term, best interests in mind, or just those of your "dental insurance company?" Complete diagnosis and treatment takes time. So does involving the patient in decisions that affect their own individual health needs and ultimately their health destiny. With increased pressure due to heavy discounting from the big insurance companies, many dental practices have moved to a "high volume" practice model.


This serves the insurance company well, shifting the focus to doing "the least amount possible" for each person, in order to push more people through the system. Those short-term fixes will lead to problems down the road, and they tend to multiply, in terms of cost, hassle, and compromised results. No wonder many medical and dental offices are feeling more like McDonalds than a patient-focused health service environment.
How can you tell you are really being taken care of? Here is what our team-members agree we would look for in a dental practice if any one of us ever moved away and could no longer be treated at Dr. Holm's office. Click here for our TOP 7 REASONS TO CHOOSE OUR OFFICE!
Dr. Holm named "Top Dentist" in Mpls.St.Paul Magazine and Minnesota Monthly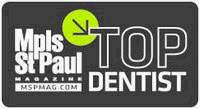 2002, 2005, 2007, 2009




2009
CEREC - Minimally Invasive Single Visit Crowns
ONLY 15% OF DENTISTS NATIONWIDE OFFER CEREC TECHNOLOGY IN THEIR OFFICE!

VIZILITE - Oral Cancer Screening

NTI - end headache pain and improve sleep quality with FDA approved night-guard
DIAGNODENT - Laser Cavity Detection